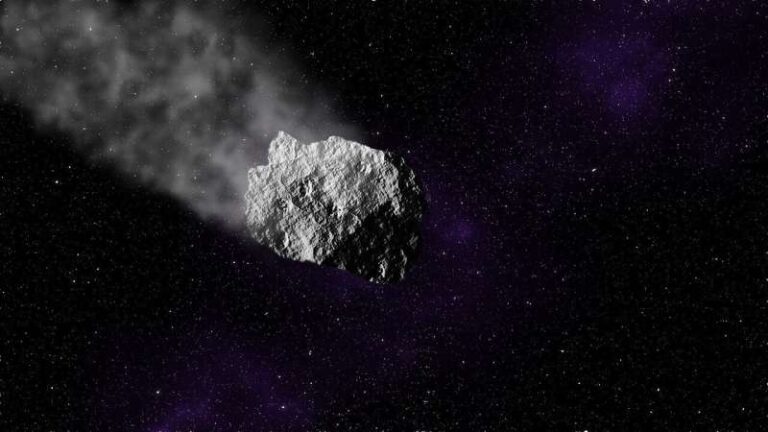 Image Credit: CC0 Public Domain
A research study analyzes the characteristics of Apophis, the asteroid that will approach Earth in 2029
by Carlos III University of Madrid
The study, in which the Universidad Carlos III de Madrid (UC3M) and the Universidad Estatal Paulista Júlio de Mesquita Filho (Júlio de Mesquita Filho Paulista State University) (UNESP) of Brazil are participating, analyzes the surface and dynamics of Apophis, an asteroid that will pass close to Earth in 2029.
The Apophis asteroid was discovered in 2004 and has been monitored since then due to its classification as a potentially hazardous asteroid (PHA), as it was estimated that it would have a 2% chance of hitting Earth. This possibility has already been ruled out and, according to the latest measurements, Apophis will reach its closest trajectory to Earth (38,000 kilometers) on the 13th of April, 2029.
This study analyzes the physical characteristics of this celestial body and the possible effects that its approach to Earth may have. Gabriel Borderes-Motta, a researcher at UC3M's Department of Bioengineering and Aerospace Engineering, explains that "collision is not the only possibility in approach events like this one. The gravitational interaction between a planet and a body such as Apophis can change the shape of the body, break the body into pieces, disintegrate possible loose stones on the asteroid's surface, or even remove other bodies orbiting the asteroid (such as rocks, satellites, or rings)… Our study focuses on the last two possibilities: what happens to the possible stones on the surface and the asteroid's orbit."
How to experiment with an asteroid
Research in the space sector presents the challenge that, in most cases, it is impossible to directly experiment with space materials. For this reason, numerous investigations are approached from the field of mathematics and physics, taking the greatest possible number of variables into account.
To continue reading this article, please click the link below…
https://phys.org/news/2022-03-characteristics-apophis-asteroid-approach-earth.html