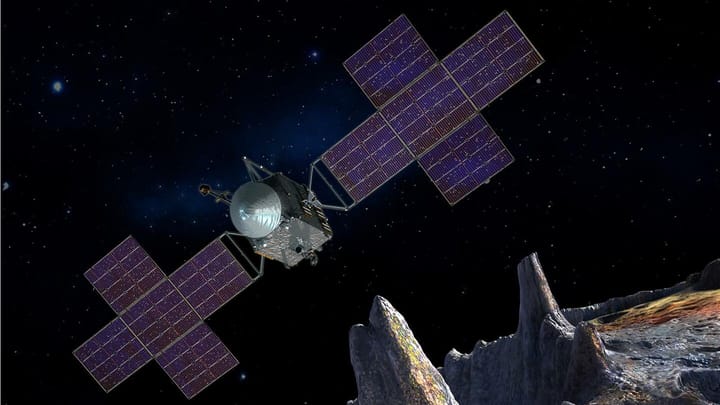 The Psyche mission will explore a metal-rich asteroid between Mars and Jupiter (Photo credit: NASA)
NASA's agenda for 2023: From OSIRIS-REX to Earth Information Center
Jan 05, 2023, 03:10 am
3 min read
NASA had an eventful 2022, headlined by the successes of the Artemis 1 and DART (Double Asteroid Redirection Test) missions.This year, the US space agency has a slew of activities planned which include revealing the crew of Artemis 2, the asteroid sample-return mission OSIRIS-REX and more."We're never going to stop exploring the unknown in air and space," said Bill Nelson, NASA administrator.
The space agency will disclose crew members of Artemis 2
NASA will reveal the crew list of its upcoming Artemis 2 mission, which will be the first crewed expedition in the Artemis series. The space agency will also unveil the spacesuit that will be donned by the astronauts for the moon mission.The previous mission—Artemis 1—was an uncrewed test flight of the Orion spacecraft and the Space Launch System (SLS) rocket.
OSIRIS-REx is expected to return to Earth on September 24
OSIRIS-REx (Origins Spectral Interpretation Resource Identification Security -Regolith Explorer) will be NASA's first asteroid-sample return mission.The spacecraft successfully collected samples from asteroid Bennu in October 2020 and is expected to make a parachute-guided entry into the Utah Desert on September 24, 2023.
To continue reading this article, please click the link below:
https://www.newsbytesapp.com/news/science/upcoming-nasa-space-launches-and-missions-in-2023/story