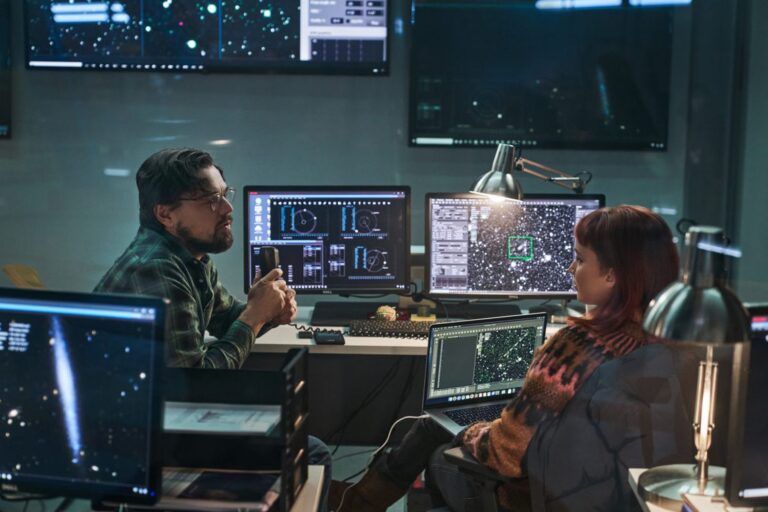 Leonardo DiCaprio and Jennifer Lawrence in 'Don't Look Up.'
NETFLIX
Forget 'Don't Look Up' – It won't be lone scientists who are warning us about an apocalyptic event
The planetary defense against asteroids and comets like the one in the Netflix movie is coordinated by international astronomical organizations and alerting the population does not depend on any one person
In 1988, an astronomer felt the need to warn the world that the apocalypse was at hand, or at least could be. On behalf of the International Astronomical Union, scientist Brian Marsden broadcast that asteroid 1997-XF11, which measured 1,500 meters in diameter, would pass within 40,000 kilometers of Earth on October 26, 2028. It would graze us and a catastrophic impact could not be ruled out. This is the closest we have come to experiencing the scenario in the movie Don't Look Up, recently released on Netflix: a PhD student played by Jennifer Lawrence discovers that a comet is on a catastrophic collision course with Earth, and together with her professor, played by Leonardo DiCaprio, she tries to warn an indifferent world.
The filmmakers took advice from one of NASA's lead asteroid hunters, Amy Mainzer, and the movie is faithful to what such an event would be like – aside from the fact that such a problem would not be in the hands of two desperate scientists acting in a vacuum.
First off, the film is a comedy, although many have taken it seriously. It uses black humour and allegory to address our response to the climate crisis and, to an extent, Covid-19. According to the film's director, Adam McKay, and its protagonist, Leonardo DiCaprio, "it's about our inability to listen to scientific truths." What happens if a comet the size of Everest comes towards Earth (climate crisis) and nobody cares? If an astronomer discovered that a gigantic space rock was going to wipe out life on the planet, what would actually happen?
To continue reading this article, please click the link below…
https://english.elpais.com/usa/2021-12-30/forget-dont-look-up-it-wont-be-lone-scientists-who-are-warning-us-about-an-apocalyptic-event.html